Transforming Rimowa's Digital Luxury 
E-commerce: A Ux/Ui Redesign That Elevated Brand Engagement and Boosted Overall Revenue
Skills
Head of Design
Leadership
Creativity
Lead UX/UI Design
Delivery
Layouts
Prototypes
Design system
Documentation
Tools & Software
Figma
Sketch
Hotjar
Google analytics
Fields
Luxury
E-commerce
Retail
Baggage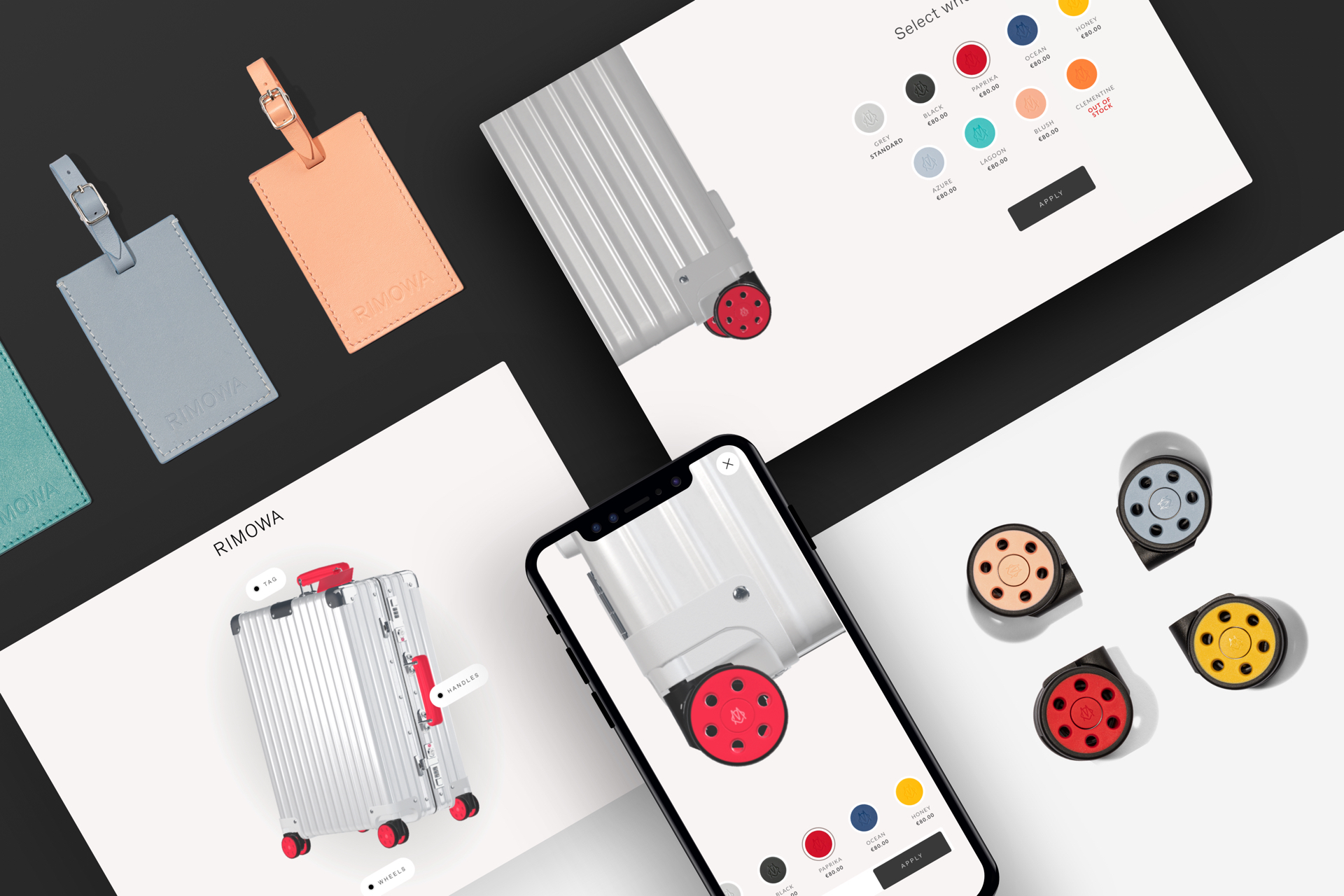 Rimowa, a French luxury luggage brand under the prestigious LVMH group, was grappling with a high bounce rate on its e-commerce website. the website has been rapidly built by an agency without a real user experience process, which leads to many issues. Aiming to elevate the customer journey and improve key performance indicators (KPIs), they enlisted my expertise as a Luxury Head of Design and Lead Ux/UI expert to address these challenges and be proactive to optimise the e-commerce experience. I was responsible of the digital design of the brand, managing an UX/UI designer, an UX writer & SEO specialist, and a Salesforce Front-end developper.  I worked on this project during 18 months.
•  Implement a 3D luggage customizer created in collaboration with BETC
•  Redesign the purchase funnel and PDP to reduce bounce rate
•  Overhaul UX/UI design to align with luxury branding
•  Create a template layout for Rimowa Stories (blog)
•  Design mobile first to improve user journey
•  Design flows for key marketing campaigns to convert viewers into customers
•  Lead the UX/UI design to ensure team delivery and coherence across the platform
•  Build a Design system and create a design workflow process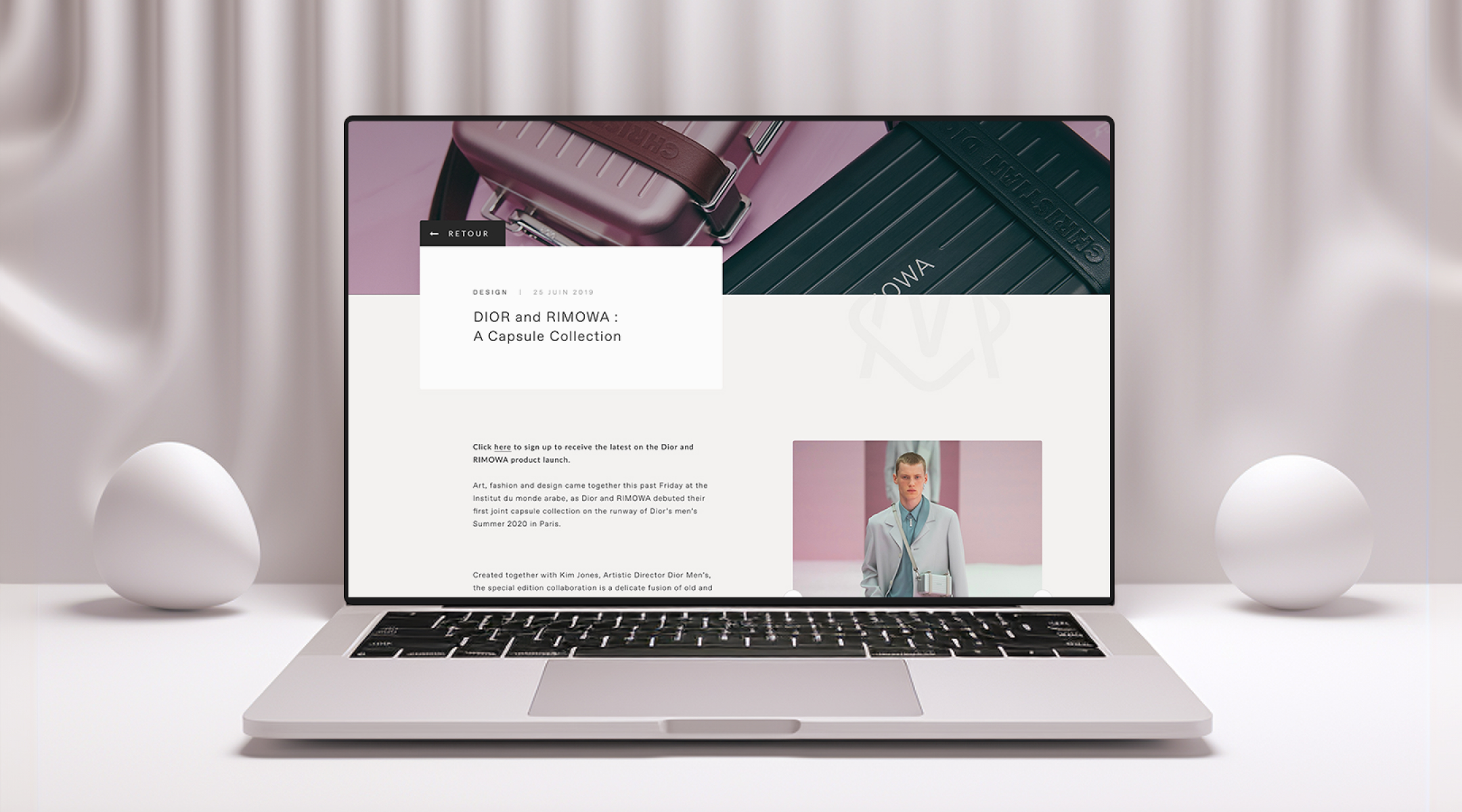 My first step was conducting a thorough audit of the existing website to identify UX challenges. Utilizing tools like Hotjar and Google Analytics, coupled with insights from user interviews, I mapped out keys areas needing immediate attention.
Armed with data and informed by my extensive experience in e-commerce design, I crafted several prototype designs, first with wireframes. These were rigorously reviewed with Rimowa's Digital Director, leading to high-end layouts that married luxury elegance and user functionality.
Wireframes for the 3D customizer landing page: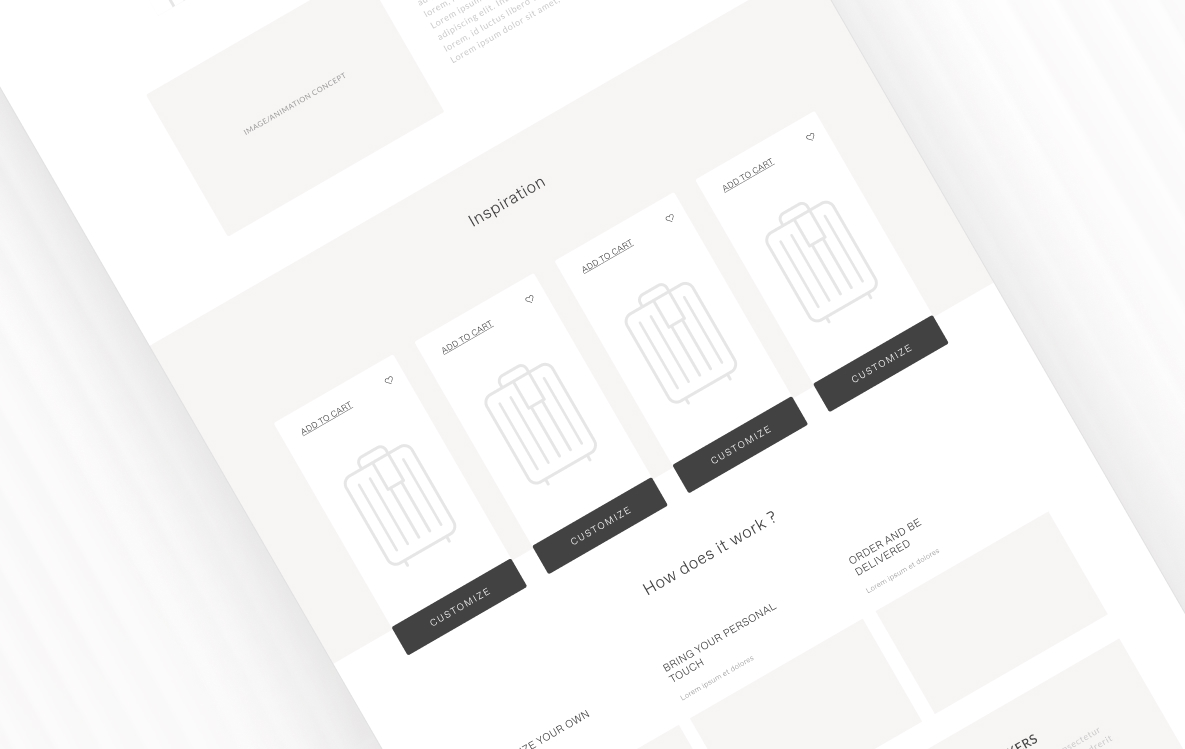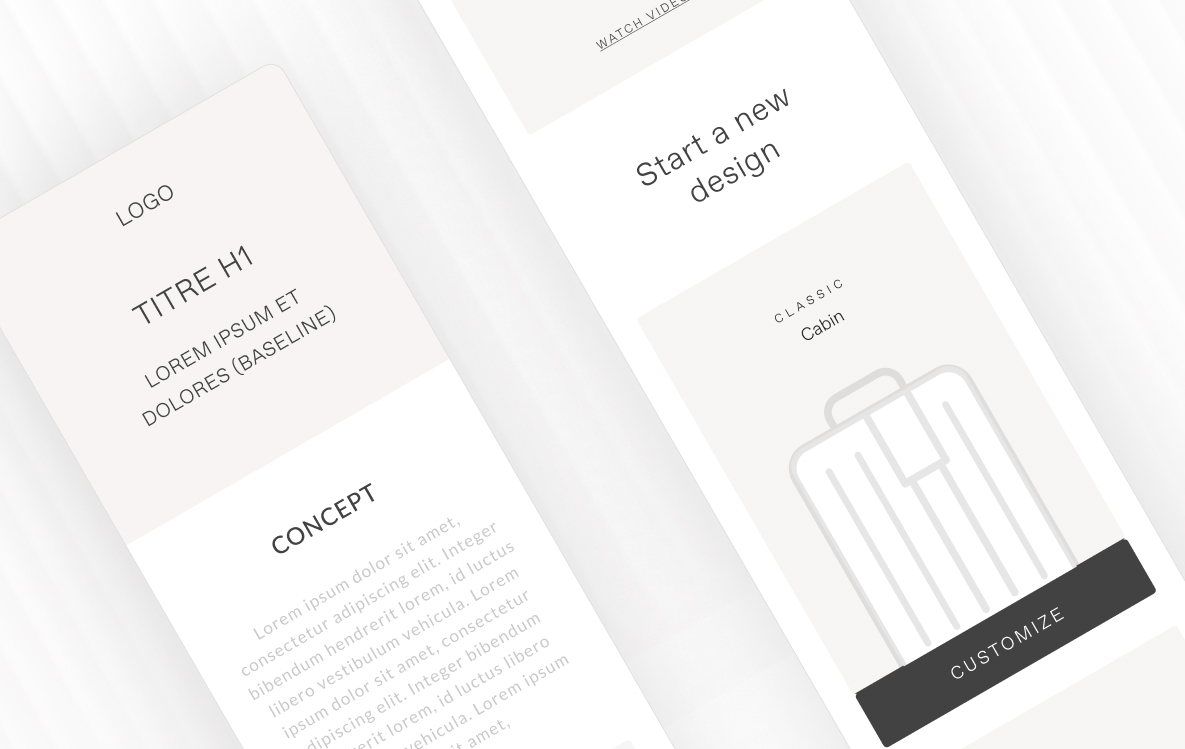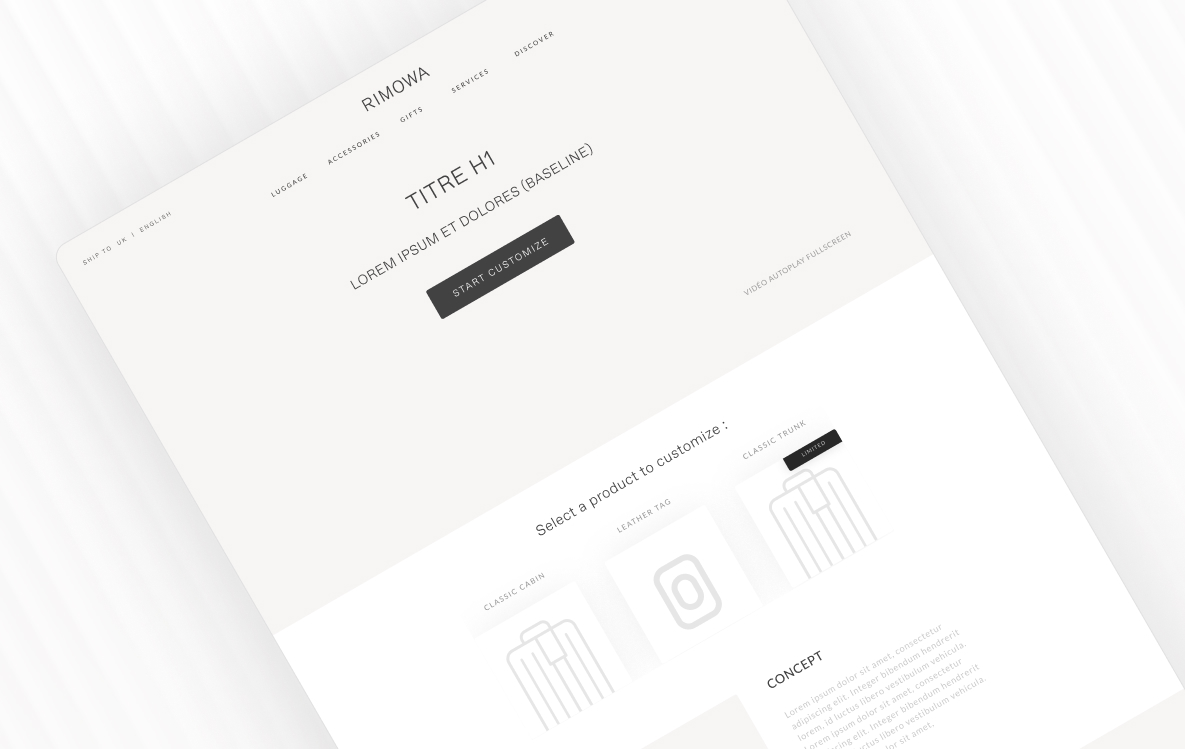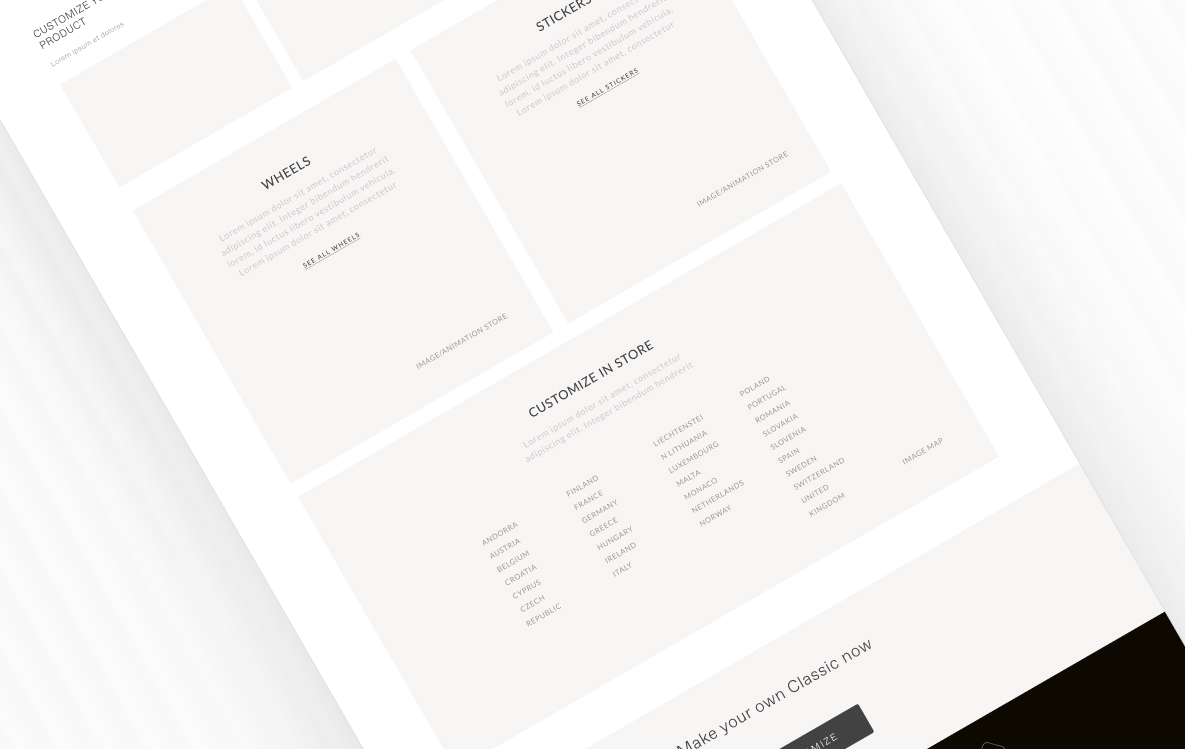 A/B testing was employed to gauge the performance of new designs against established metrics. This validated the efficacy of the changes while ensuring the designs were not just aesthetically pleasing but also functional and user-friendly. I also conducted user tests to gather feeback on critical flows such as the purchase tunel.

Marketing campaigns
I've designed many layouts and flows for key marketing campaigns to convert viewers into customers. Example : Never Still campaign with Roger Federer, Dior, Supreme.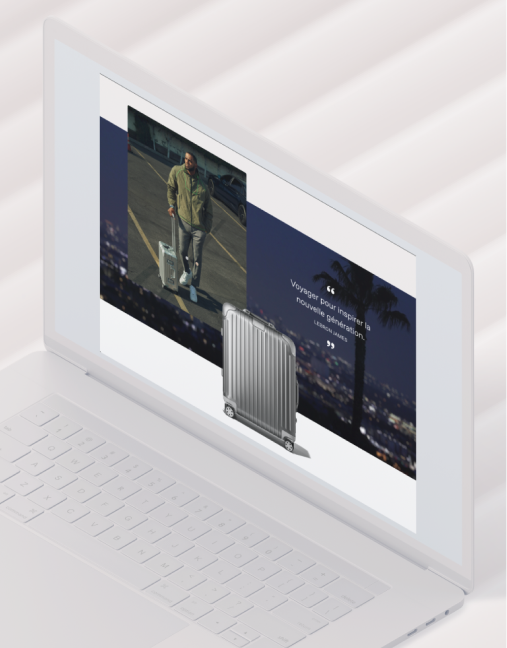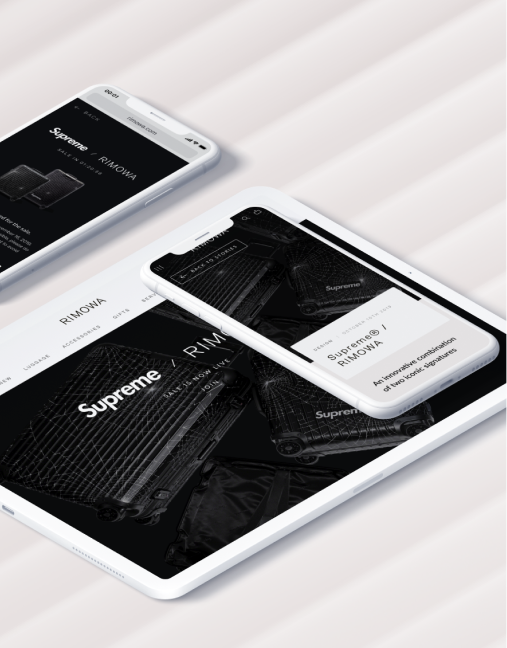 The project served as a catalyst for financial growth, marking a 57.33% rise in Rimowa International's overall revenue (shops + e-commerce) between 2020 and 2021. Remarkably, the e-commerce platform transitioned into the brand's most lucrative sales channel. Strategic redesigns particularly targeted the purchase funnel, resulting in a marked decline in bounce rates, thus facilitating a smoother and more efficient customer journey. The new design of the product page led to an upswing in the average basket size, and conversion rate, directly contributing to higher revenue.
These results signify not just improvements in isolated metrics but a comprehensive upgrade in the way users interact with and perceive the Rimowa brand, underscoring the transformative power of effective UX/UI design in the luxury e-commerce space.
« Excellent customer experience from order to delivery. A complete and effective website. Very responsive. When the product is in stock, efficiency is at its peak. »
Quote from a Rimowa customer